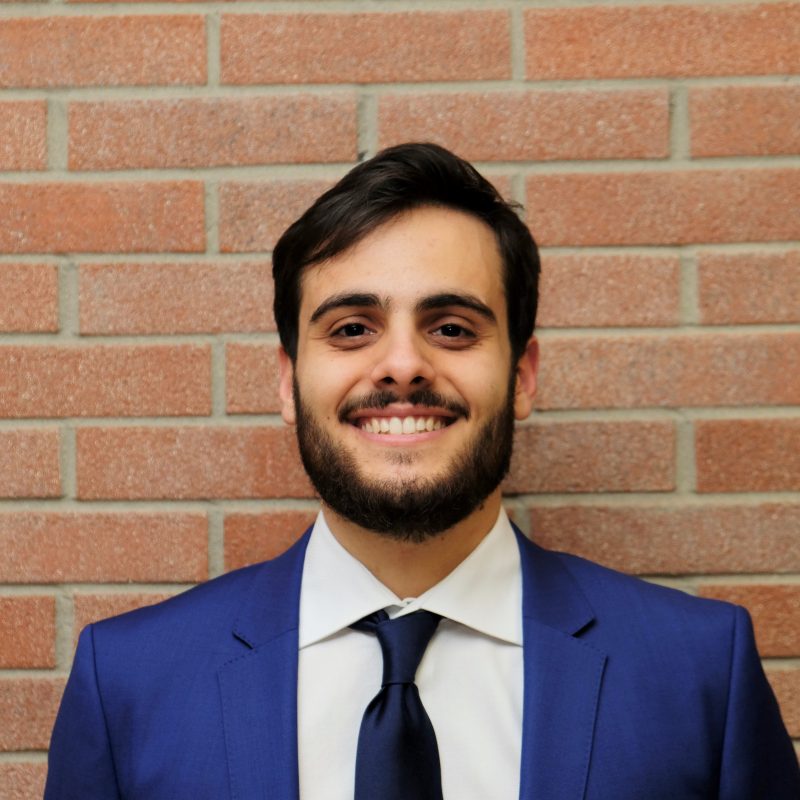 "Leaving Sicily to move to Milan has been my toughest challenge so far, but living in halls of residence has been really helpful. I immediately became part of a bigger community, so I never felt lonely."
Why did you decide to study mechanical engineering at Politecnico di Milano?
I've always been fascinated by mechanical engineering, even though, for a moment, I did consider management engineering. My personal ambition for the future has always been to be a manager of a large-scale enterprise. Although, back in the days, I was super convinced that I would never become what I wanted to be if I was to choose mechanical engineering. Thankfully I landed on the Alumni website, so I realised how wrong I was. This website pours with evidence of many mechanical engineers who succeeded in doing what I wish to do. Suddenly, I realised how enrolling in management engineering would have been a rebound for me. Instead, about Politecnico di Milano I only knew it was an excellent university. Yet for me, because I come from a small city in Sicily, going to the university already meant I had to leave my hometown. I decided to take the leap, but I never regretted it.
 What has been the most significant challenge you had to face?
Moving from Sicily to Milano, no doubt on that! But not as traumatic as one thinks it can be. The impact was strong, but I believe it is absolutely normal when one moves to a bigger city, compared to where they come from. I had to find a new balance, embrace a new lifestyle, and adapt to a different routine. Still, I am quite sure that living in the halls of residence helped me a lot because I got to share this experience with other people like myself, coming from all over Italy. As a matter of fact, I immediately became part of a community, which is why I never felt lonely.  
Tell us more about your experience in the halls.
Collegio di Milano is one of the many halls of residence for students. This one, in particular, offers accommodation to brilliant students, both Italians and internationals. The halls of residence are located near the Milan Underground station Famagosta. Also, Collegio di Milano is sponsored by Fondazione Collegio delle Università Milanesi, which includes Politecnico di Milano as a member, and is accredited by MIUR – the Italian Ministry of Education. I decided to apply for university accommodation because Milan was too far away, so it was difficult for my family and me to go apartment hunting. After sending the application, a two-phase selection procedure began to evaluate my technical skills and, most importantly, my attitude. Firstly, in groups, the candidates must show their team-working spirit. Later, a team of psychologists will interview each person individually and ask them to tell something about their life and themselves. During the interview, they will also assess your English level and, if the case, include the candidate in one of the offered language courses. The final decision will be made also considering the final grade of your high-school diploma, your studying commitment, and your enthusiasm. By signing the agreement, the student promises to meet the fixed GPA required until willing to remain.  I enjoyed my staying very much. I had my own room and bathroom. It only took me to leave that room to meet new people, which is always very inspiring. Collegio di Milano also offers the chance to take part in multidisciplinary projects sponsored by third parties, which eventually lead to being part of new communities and/or start-ups. To be honest, I feel really grateful for this great opportunity.    
Looks like you had a wonderful time during your studying days, thanks to some favourable elements. However, was there a moment that was particularly difficult for you?
It was definitely during my first year. See, in high school, I was among the most brilliant students in my class. I honestly thought that once at university, I would have met people just as skilled. Truth be told, I soon realised that the lecture room was filled with people far more knowledgeable than me. And I had the roughest time understanding the lectures given by my Professors. It took me about two weeks to acknowledge that I was no longer in high school. Still, I was so afraid of failing that I basically turned my life into "just studying". Only after a while, I realised that studying that hard wasn't really profitable. Perseverance and determination are the only keys to success at university. 
Your experience in halls has somehow influenced your decision to apply for an exchange programme, or was there some other reason?
I don't think it did, or maybe I just haven't thought about it. I enrolled at uni knowing that one day I would participate in an exchange programme. But living on an international campus was not the main reason I decided to go. For me, studying abroad was the opportunity to overcome once and for all my shyness and become more confident, especially when speaking another language. I wanted to become fluent in English so I wouldn't have to worry about being misunderstood and having trouble sharing my knowledge, even in international contexts. Alliance4Tech helped me to reach my goal. But it also taught me that the way you present your work to your teams and colleagues is equally as essential as your linguistic skills. My piece of advice to everyone who wants to take part in such programmes is: do not be afraid of abandoning your comfort zone. It won't be easy, and you'll have to adjust. But, in the end, it will allow you to grow personally and professionally in your own unique way. And, you will also have memories and stories to share, even during future job interviews.
Where do you see yourself in the future?
Over the years, I found myself being more and more passionate about information technologies applied in the mechanical field. As a consequence, my ambition is to work with technologies at their most human level. In other words, to work less on the machinery physical elements and materials and more on how it can interact with humans, like AI.
Do you think the acquired knowledge will lead to getting your dream job?
The Mechanical Engineering programme offers tons of opportunities, even in fields that apparently have nothing to do with it, professionally speaking. But many mechanical engineers work in "unusual" industries that still find the acquired knowledge really useful. I am confident this degree will get me where I've always wanted to be.  
Find out more about the Master of Science in Mechanical Engineering.